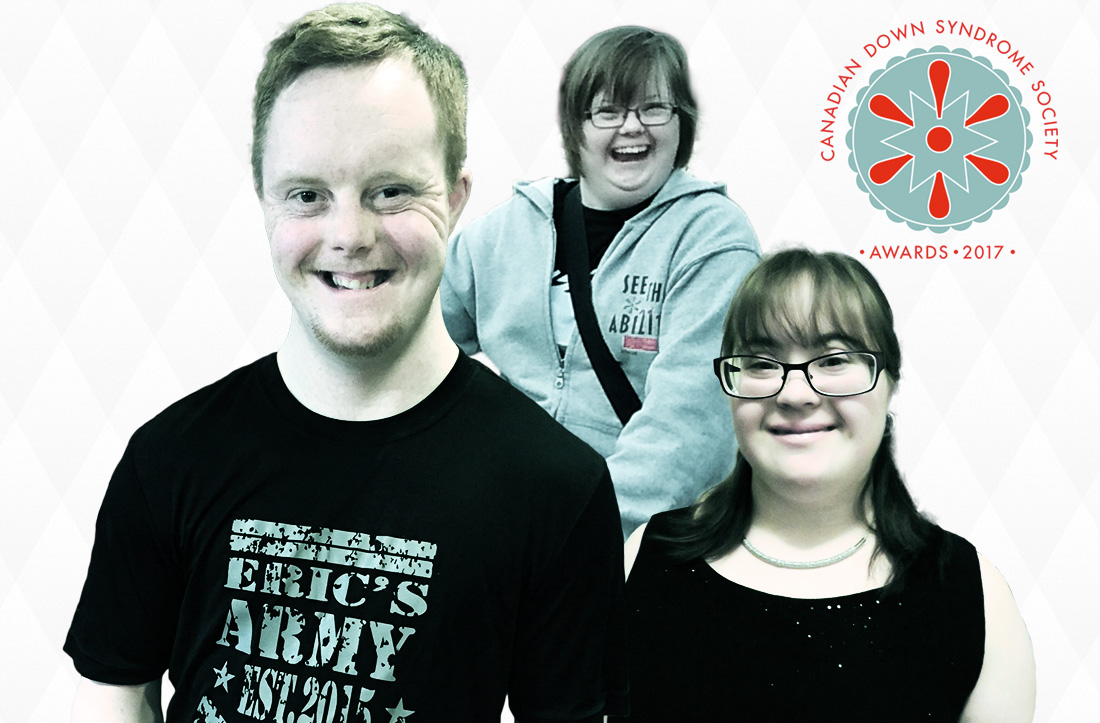 To celebrate Canada's 150th, we're asking all of you to tell us: What does YOUR Canada Include? 
Inspired by Rick Mercer's video "My Canada includes an extra chromosome," we would like all of you to share what makes Canada's Down syndrome community makes great by sending us photos of you in your community with signs that answer the question. We'll share all of these photos on our website in time for Canada Day! 
Rules:
-You must be Canadian to participate
-You must include the words "My Canada includes…". See the examples below.
-The photo must be your own – please do not submit copyrighted photographs.
Submit:
Email your photos to kaitlynp@cdss.ca along with the following details:
-Name of all the people featured in the photo
-Location (City and/or Province)
Deadline:
June 19, 2017
Examples: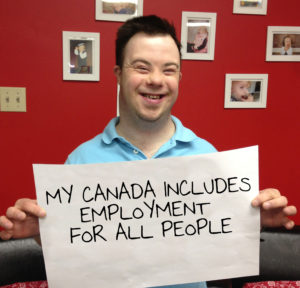 (OTHER SIGN WHERE THE WORDS ARE ON THE PHOTO)
Acknowledgements: 
Rick Mercer
Thanks to Sabrina from Down Right Cute.
Before you submit: important legal information
Everyone who submits a photograph must read and agree to the following release. If you are under 18 years of age, a parent or legal guardian must agree to the terms of this agreement on your behalf.
Photo release
I agree that the CDSS may use the Photograph that I have submitted under the following terms and conditions:
I own this Photograph, and I own all the rights, including copyright, necessary to submit this Photograph to CBC.
I am the sole owner of copyright on this Photograph, and I understand that I am granting CBC the nonexclusive right to use it in any way that CBC sees fit.
I consent to indemnify CBC against any claim, demand, action, suit, or other proceedings against CBC arising out of the use of the photograph and related to any false or inaccurate statement.
I grant this authorization free of charge.
Participants who have modeled or posed in the photo have assigned all relevant rights to me.
We recommend you use your browser's Print button and print this page for your records.
Please include your full name and a telephone number where we can contact you. If we can't call you, https://www.viagrapascherfr.com/sildenafil-generique-pas-cher-lyon/ we can't use your photos. And we might want more information from you about them.
By selecting 'I agree' and submitting your photos, you are letting us know that you have read and agree to the conditions above.
Suggested guidelines
We want the photographs that you decide to submit to CBC.ca to be the best possible.
Please consider these guidelines.
1. Send us the pictures as jpgs at the maximum size you can. (Although in some cases e-mail systems won't accept a file larger than 5 megabytes.)
We prefer images that are 1280 pixels horizontal or vertical because our photo galleries have a full screen option. We can crop or reduce larger pictures. We can also use good pictures that are shot at a smaller size.
2. The picture should not have the time and date embedded by the camera visible on the image.
3. The photograph should tell the CBC.ca viewer a story, be well exposed and have interesting composition.