Dear CDSS members, donors, and supporters,
Our 30th Canadian Down Syndrome Conference was an incredible success! We had an amazing time – from welcoming Sean & Elena from Born This Way to closing with Jon Jon Rivero, and everything in between. We hope all of you learned something new from each of our speakers, made lasting connections with your fellow attendees, and enjoyed the beautiful town of Banff.
There are a few people we'd like to also thank. First, to our sponsors – Denny's, Details, Red Arrow, Executive Millwork, Fairfield Watson, CBN Commercial Solutions, Child Development Dayhomes, Norton Rose Fulbright, Allard Foundation, Reece's Rainbow, CIR Reality (Rose Wolstenholme), and Tech To U – for their support and commitment to Canada's Down syndrome community.
Second, to our fantastic volunteers who helped us with our Childcare and Self-Advocate & Teen programs. We had one of our most successful programs in our history. Great volunteers can help make an event go from good to exceptional – and our volunteers this year did just that!
And last, thank you to all of you who attended. Meeting so many of you has been a highlight of my year so far, so thank you to everyone who came up to say hello. It inspires the team to bring the community together and see what strides we've made, put faces to the names we received in our Inbox, and make brand new friendships. Thank you for making this conference so special to us all!
If you weren't able to attend, or haven't yet seen them, you can check out our pictures here! The photos have been uploaded in higher resolution so you can download them yourself if you want to keep your own copies – or email us and we can send you the high resolution photos for print:
What were your favourite moments? Share your pictures with us!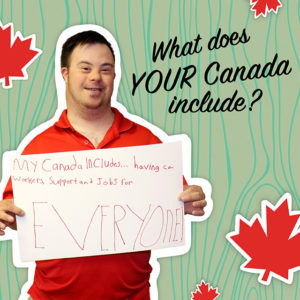 Now, here are some things we're working on at CDSS this month:
To celebrate Canada's 150, we want Canadians to share photos and videos that depict the country's diverse Down syndrome community, with answers to the the question – "What Does Your Canada Include?" Learn more about this project here – and send in your photos ASAP – the deadline is June 23!
Donate to us using Canada Helps's Great Canadian Giving Challenge: "Summer can be a challenging time for charities across the country as Canadians head out to enjoy the great Canadian outdoors, leaving charities to face a decline in financial support. But this summer we are challenging you, Canada, to get giving and join the Great Canadian Giving Challenge for your chance to win $10,000 for your favourite charity."
We're always looking for new VATTA members! Are you interested in joining the team? Find out of you'd be a good fit for VATTA here.
Thank you for subscribing to 21 Monthly, the CDSS newsletter. Please feel free to give us a call or email us if you have any questions. We're here for you!
Regards,

Kirk Crowther
National Executive Director
Canadian Down Syndrome Society
---
Down Syndrome in the News: