From The Current with Anna Maria Tremonti:
In 2013, environmental studies professor Felipe Montoya landed a job at York University, in Toronto, and all that was left to do was relocate his family from Costa Rica to Canada, and apply for permanent residency.
But Canadian immigration officials rejected Felipe Montoya's residency application, arguing his 13-year-old son Nico would be a burden on taxpayers because of his Down syndrome. What followed was a long, drawn-out fight in hopes of reversing the decision arguing his son was being discriminated against because of his genetic identity.
The Montoya case highlights raises questions about how society views people with Down syndrome ; such as they are sick or need intensive care, adds to a stigma that is not the reality.
The Current invited a panel to shatter misconceptions of Down syndrome.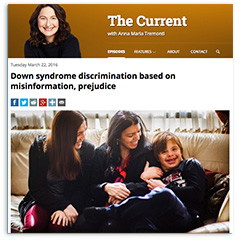 Guests in this segment:
Will Brewer, 30-year-old living with Down syndrome and a member of Voices at the Table for Advocacy, a working group at the Canadian Down Syndrome Society.
Allison Brewer, Will's mother, is chair person of the Halifax, Nova Scotia Down Syndrome Society.
Kirk Crowther, executive director of the Canadian Down Syndrome Society in Ottawa.