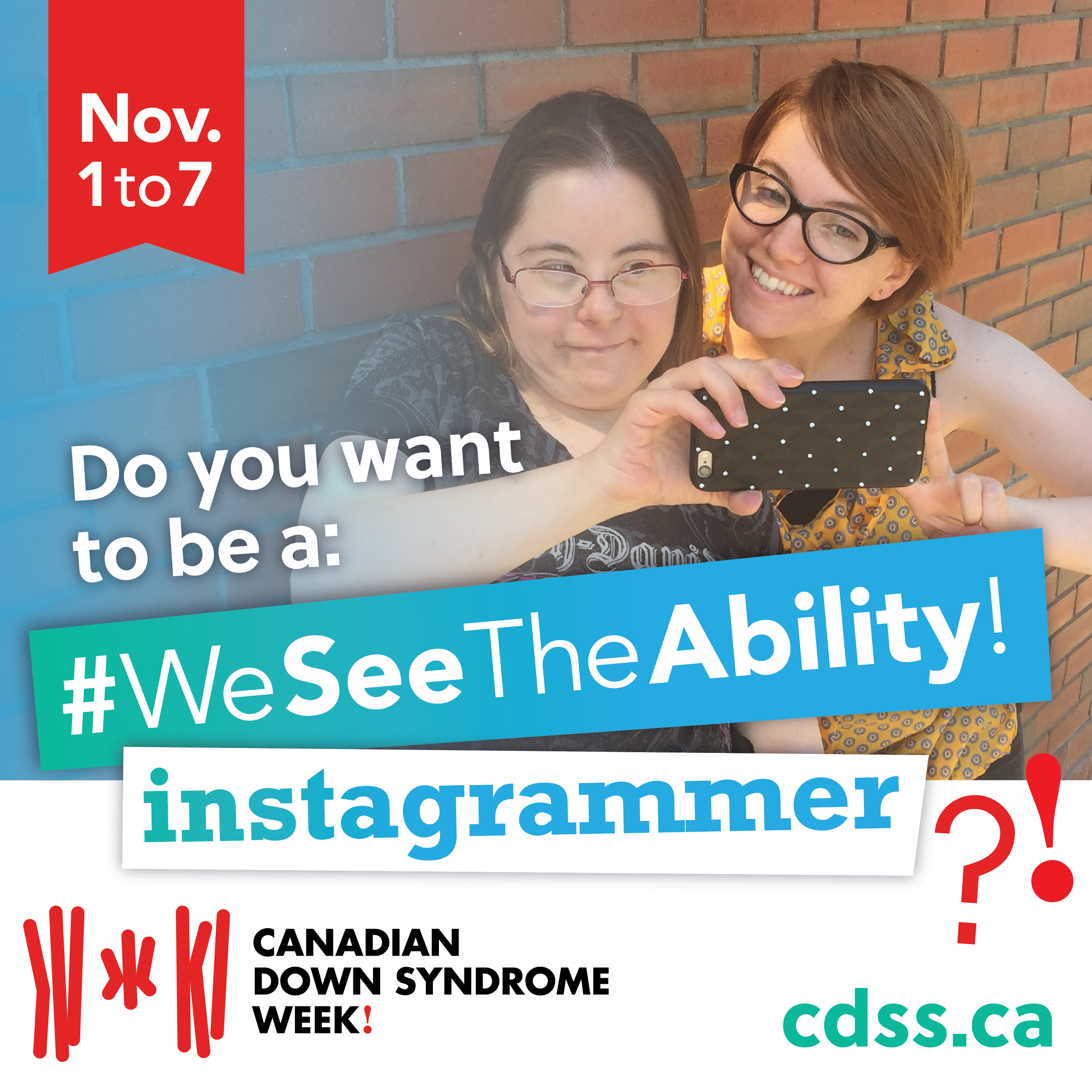 The six families and people who will take over our Instagram to celebrate Canadian Down Syndrome Week are:
September 20 to 26 – Shawn Grieve
September 27 to October 3 – Ruth Joseph
October 4 to October 10 – the Crowson family
October 11 to October 17 – Megan Allard
October 18 to October 24 – Cameron Gordon
October 25 to October 31 – the MacKeigan family
From November 1 to 7, we will be sharing pictures that were posted using the tag #WeSeeTheAbility! So if your account wasn't chosen, you can still share your photos with us and people around the world.
---
Hey Canada! Do you love taking photos? Do you want to share your story with Canadians and people around the world? Do you #SeeTheAbility?
If you said yes, we want YOU to be part of the Canadian Down Syndrome Society's #WeSeeTheAbility Instagrammers. We want to show the world that Canadians #SeeTheAbility – and we want YOU to help us.
We're inviting five CDSS members to share their lives with Canadians and people around the world info the weeks approaching #CDNDownSyndromeWeek (November 1 to 7) on our Instagram account. Five Instagram curators – families and people with Down syndrome – will take over the account in the five weeks prior to Canadian Down Syndrome Week, sharing their lives and stories.
We want our Instagram to represent an honest look at Canada's incredible, strong, diverse and inclusive Down syndrome community. Let your pictures reflect this!
The #WeSeeTheAbility Instagrammers will:
Become an inaugural member of the #WeSeeTheAbility Instagrammers

Receive a CDSW swag bag, including Canadian Down Syndrome Week apparel, the contents of which they must include in some posts
Your posts will be featured on our Instagram account, cdss.ca, Facebook, Twitter.
How to be chosen:
Until August 19, 2016, tag your posts on Twitter, Instagram and Facebook with #WeSeeTheAbility or email us at kaitlynp@cdss.ca with your Instagram account and a 140 character-length explanation of how you 'See the Ability' (the length of a tweet). If you use Facebook, make sure your post is public so we can see it!
Here's what we're looking for in our #WeSeeTheAbility Instagrammers:
You're a member of CDSS

We're not looking for professional photographers – but if you are one, that's great! We're looking for members of our community who want to share their lives with our followers

You have to have an Instagram account and are familiar with the app

You follow @cdndownsyndrome on Instagram

You are Canadian

You can commit to a week of sharing content

You believe in the Mission and Vision of CDSS

Your explanation of how you See the Ability (less than 140 characters)
Successful instagram curators will be contacted by late August to early September 2016.
#WeSeeTheAbility Instagrammers will begin on September 27, 2016.