The Challenge to Lose Weight & Stay Healthy
There are always struggles in life for everyone.  I have noticed that many people with Down syndrome can find it difficult to lose weight. It has always been a struggle for me to lose weight so I really made this my focus in 2018, and I am happy to report that I have managed to lose 30 pounds with some hard work and some handy tips. I would like to share these with you.
First, let me show you before and after pictures: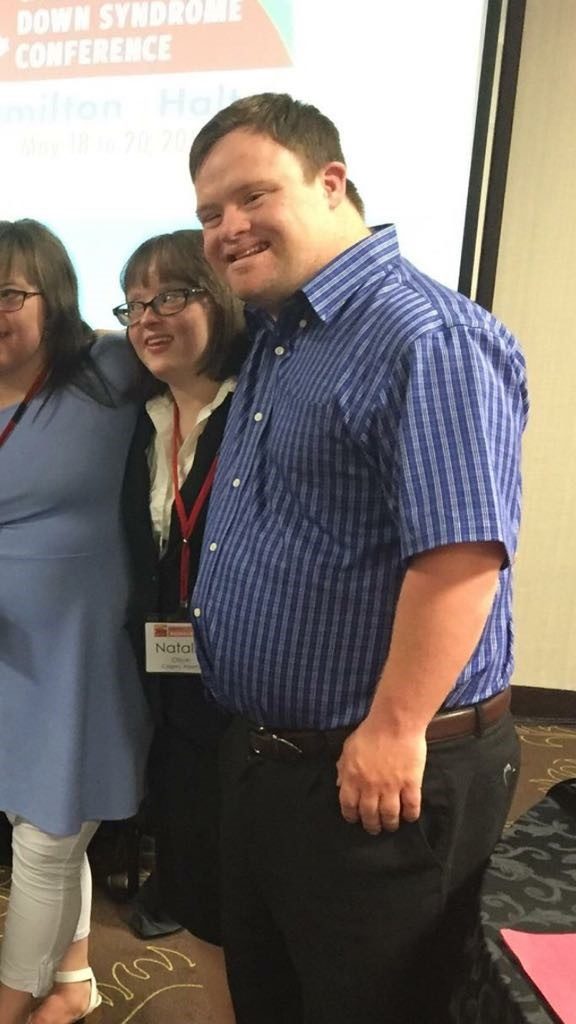 This is me before I started my journey. I felt uncomfortable and wanted to do something to be healthier. Here are the results: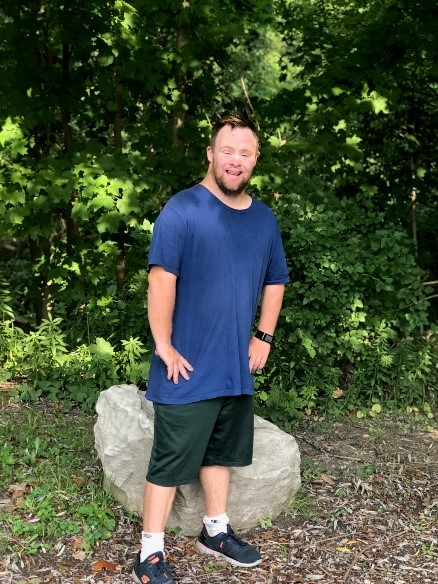 If you are also struggling to lose weight, here are some of the ideas I came up with that helped me to be successful.  I hope that they will motivate you to do the same:
• Watch your portion sizes at all of your meals.
• Count your calories and what you eat per day.
• Start with lower calorie snacks, or have less snacks.
• Track your activities and invest in a counter that tracks your steps.
• Try drinking healthy protein shakes for breakfast and lunch, but remember that those shakes are a replacement for a meal.
• Make a meal plan each day that is easy to track what you are eating.
• Do some activities like team sports or do a workout.  I invested in a watch that tracked my intensity minutes and my steps. This worked to help motivate me.
I hope those tips are easy to follow and help you with your healthy journey.
The Challenge to Find Employment
Another difficulty that people sometimes face is finding work. This can be hard. This is so common for all people with disabilities because sometimes people don't give us a chance.  Yes. You all can work. Do not think that you cannot work because it can help you with self-confidence and doing things you like. It does not need to be paid work. Sometimes it is about finding a passion and doing volunteer work.  This is a great start to build skills. If you feel that you can do a paid work position you need to get out there and prove that you are hard working. Take an advocate with you. List your volunteer work on your resume.
Here are some examples and tips on what you can try to do to be successful in finding employment.
Start with volunteering:
• Volunteer at nursing home or sport facility like a hockey arena.
• Help your family with housework like cutting grass, raking leaves, and shoveling snow in the winter.  Learn skills from friends and family.
• Find a place that you like to work at and volunteer for a while to build your confidence and hopefully it can turn into a paid job in the future.
I hope those tips help and motivate you to be successful in finding a paid job and building your self-confidence.
The Challenge with Education
Sometimes it is a struggle to complete your education. Because different abilities have a different way of learning and some people may need more time or less time.  Here are some of my quick tips:
• Ask your school to modify the schoolwork to make it easier for every student to understand.
• In math use different learning methods, as an example use dot math to help (you can google this).
More than anything, the biggest thing that you can do is face your difficulties head on. Come up with a plan and then proceed one step at a time. There is nothing you cannot do if you put your mind to it.
Best Wishes from Matt