Happy Giving Tuesday, everyone! I'm here to tell you about the importance of employment opportunities for people with Down syndrome.
I work at a Crown Corporation in Saskatchewan called SaskTel. Our company is a leader in telecommunications. I work at SaskTel's main retail store, next to corporate headquarters in downtown Regina. My duties in the store include: sorting and packing up returned equipment in boxes and taking a trolley full of boxes down, in an elevator, to the loading dock. I also do some tidying up in the store, recycling, and restocking some equipment and phone books. I work four hours a day, five days a week.
Changes to my job can be difficult. Sometimes, my colleagues change what they expect me to do and it takes some time to get used to it. Or sometimes two different people ask me to do two different things. But I ask my manager for direction. Being on time can sometimes be a challenge, but I set an alarm on my phone to remind me when breaks are over. I do have a good sense of direction and I have a good ethic: get up and do your job and don't fire yourself.
The most rewarding part of my job is money. My paycheque allows me to pay for movies, my lunches, and dates with my girlfriend. I am also saving for a condo. I also really like my colleagues. I have been at SaskTel since the summer of 2010 – eight years – so I have made some good friends at work. I have also made good acquaintances.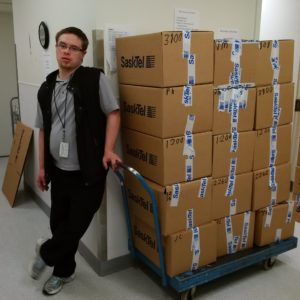 Three tips to get a job:
Work on a resume or an audition tape if they allow it.
Keep applying to different jobs.
Emphasize your strengths.
Three tips to keep a job:
Be on time.
Don't fire yourself (that means don't do things that will get you fired like leaving early, or taking too many sick days with no excuses).
Be likeable and dependable.
I am grateful to SaskTel and to everyone who is behind me. Thanks for the opportunity to talk about being a working man.