Can we
strengthen
our minds by
strengthening
our bodies?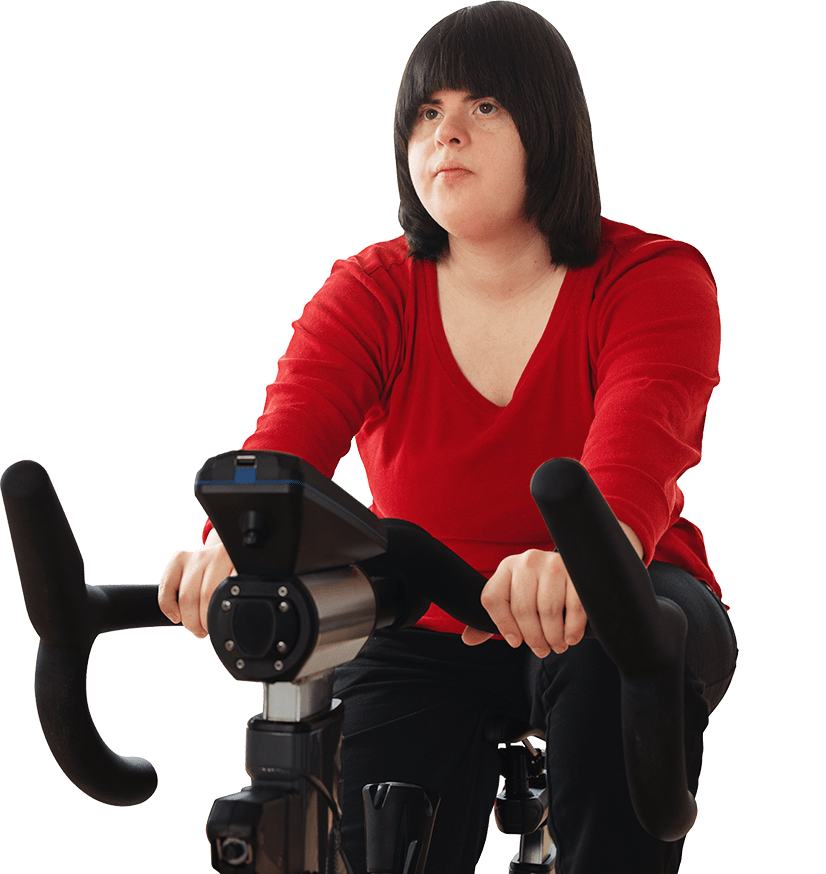 We're launching a first-of-its-kind scientific research study to examine the link between exercise and cognition.
With the support of BrainHQ we're launching Mindsets, an 8-week research study facilitated by Dr. Dan Gordon from Anglia Ruskin University. Our goal? To scientifically quantify how much physical exercise affects mental fitness. But we need participants to make it happen.
Depending on their role in the study, participants will perform physical exercises from home, like light stationary biking or light jogging, as well as mental exercises and brain games provided by BrainHQ.
This data will be used to measure the precise impact exercise has on cognition over time, and lead to fitness being universally recognized as a necessary tool for helping individuals with Down syndrome live their best lives.
Who can apply to participate in the study?
To apply, you must have Down syndrome, you must be 18 years or older, and you must be able to understand English..
How will I know if I was accepted into the study as a participant?
If the study accepts you, you will receive an email confirmation directly from the researcher within 10 to 20 days.
What is the overall timeline of the study?
We are currently in the recruitment phase of the study. Once we confirm enough participants, we will run a pilot test later this spring. Following a brief period for modifications, we will launch the larger study, over a period of several months, with the hopes of finalizing the study later this year.
Are all levels of fitness welcome to apply?
There are no restrictions related to the level of fitness, anyone can apply. We will ask you to complete a pre-exercise medical form as part of the screening process to ensure that you are safe to take part. We may ask for some confirmation from your family doctor.
You have to be able to walk.
How much time will this take me?
It depends on which group you are assigned to, but we expect it will take up to 30 minutes a day and possibly 6 days a week for eight weeks.
Do I need to be able to read to participate? Can a support person help me?
Absolutely. Participants may need some support with any or all aspects of the study and data recording. You will need access to a computer/tablet/phone for the cognition part of the study.
How much support will most people need to participate? Can I do this on my own or will I need a parent, friend or support worker to help me?
You will likely need a bit of help to set things up and to work out a schedule. You may need some help the first time you use the Fitbit and the BrainHQ app. Some people will need someone to help them every day for the eight weeks, and some won't need any help.
What type of information is required in order to take part in the study?
o Name and contact details
o Age
o Address
o Health information
How many people will be asked to participate?
We are aiming to recruit approximately 200 participants.
How long will the study last?
For participants, the study will run for eight weeks. Not all participants will be in the study at the exact same time, so the overall study will last several months.
How will the fitness and cognition data be stored?
The data we will collect will be handled and stored according to the General Data Protection Regulators (2018).
Will I receive any payment to take part in the research?
As part of this study, we will send you a Fitbit device, in appreciation of your participation. Should you complete the study, you will be allowed to keep the Fitbit.
What are the likely benefits of taking part?
Our hope is that you start to feel healthier!
Who are the researchers?
Lead Researcher: Associate Professor Dr Dan Gordon. Anglia Ruskin University, Cambridge, UK
Research Assistant: Miss Viviane Merzbach. Anglia Ruskin University, Cambridge, UK
Do I need to be Canadian or a resident of Canada to take part in the study?
No, anyone can take part in the study as long as they understand English.
If you have more questions?