Those who know Matthew "Matt" MacNeil use words like "friendly, reliable, helpful" and "responsible" to describe him. All those words describe the beginnings of a great resume, as well as a model employee. But the road to inclusive, paid employment was a lot of work for Matt, and for his family. Matt's mother, Carolijn, attributes volunteer experience as the key component to developing Matt's resume and in finding a job. She has some great advice for seeking volunteer work: "Find things that you are passionate about and start there, this experience pads your resume, and the more experience you can add the better." Matt's family also prepared him for the interview process with mock interviews, they also talked a lot about the key attributes employers look for in an employee, and encouraged Matt to never sit idle at work, to be helpful and always find something to do.
Not only has Matt's volunteerism done great things for his resume, it has also led to many more accomplishments, including receiving the prestigious 'Citizen of the Year' award in 2017 from his town of Tillsonburg, Ontario. The night Matt accepted his award; he was described as much more than a community leader, he was described as a community builder. His volunteer experience has included helping at summer camps, advocating for accessible transportation, youth programs and recreational inclusiveness, and sharing his stories about advocacy and volunteering through many public appearances and speeches.
With his finely tuned resume in hand, Matt approached his local Sobeys store and has now been working with the Sobeys Tillsonburg team for twelve years. His day-to-day duties include cleaning, bagging groceries, and carrying groceries to vehicles for customers who need extra assistance.
Matt's feelings about work are much the same as they are about volunteering, stating "It makes you feel good to do things to help in your community." His supervisors agree with Matt about the importance of adding to the community. When asked why they would choose to hire someone with Down syndrome, they said, "Extending fair opportunity towards individuals regardless of personal circumstance is something that all people, not just employers, should seek to promote. Allowing individuals to contribute to a company where and how they can, only reinforces the opportunity for success – both for the employer and the individual."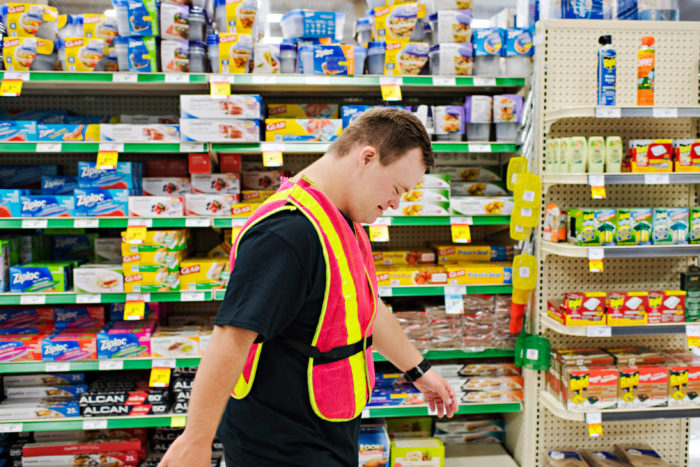 Matt also likes to think of his job as inspiring to others. "It shows that I am valuable, that I can work. It shows that anyone else can work as well," says Matt. "It has really changed my life, to show that people with a disability can work just like everyone else." Matt's supervisors see Matt like any other employee in most ways, "Each person you hire is unique; someone with Down syndrome is not outside this truth. Training and integration have to mirror other employees…with a more tailored approach. Understanding your role in a company is critical for fulfilling employer's expectations. This starts from the ground up, so by Matt having an extra solid foundation to stand on, it gives him something he can fall back on when faced with new challenges."
When asked recognizing the benefits of hiring someone with Down syndrome, Wendy of Sobeys Tillsonburg said, "It sends a positive message to customers, and to other employees, that the company supports people…and seeks to help individuals build and cultivate success." When leveraging this unique benefit, they also recognize that "…it can be very effective at promoting the opportunity to quell misunderstandings toward individuals who break the mold. If customers can see your company as an entity that embraces all facets of contribution, that is immensely beneficial and a huge win for everyone."
Like his employer, Matt's family has also given him the tools to be successful.  Matt is very independent.  He checks his schedule, and does everything he needs to do to get to work and be a reliable employee. He's recently made a decision to increase his number of paid work hours by seeking a second job.  They have been there.  Matt and his family know that it is hard work to find a job.  Their advice is simple, "it takes some pounding of the pavement and building relationships, but in the end it is all worth it.  Keep trying and do not give up!"