Resume and Cover Letter Development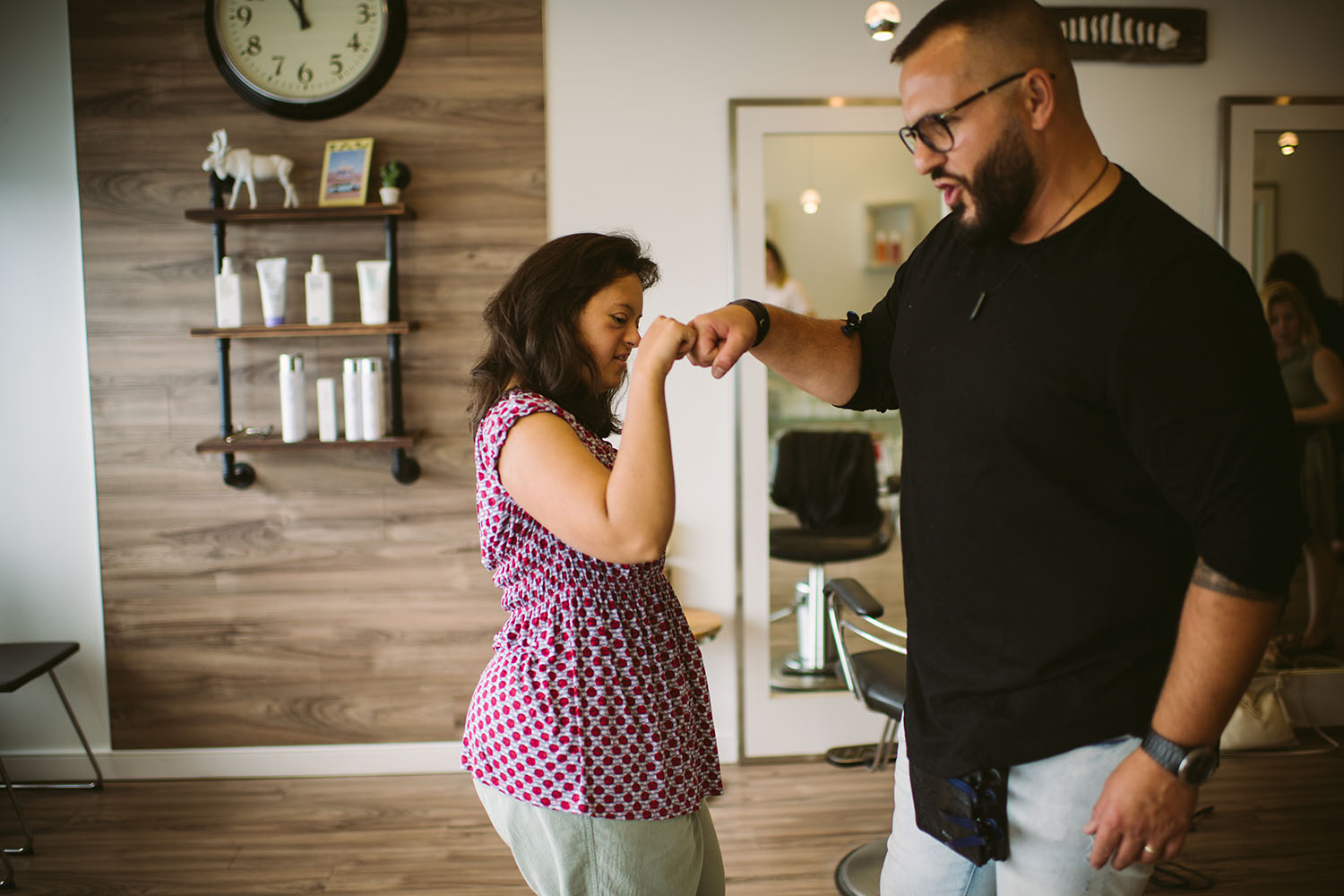 A resume is a document that will help you keep track of your career and showcase your skills. You can use your resume to market yourself and get a job interview.
A resume should include:
Your name and contact information
Key skills and accomplishments
Training or certificates
Past jobs (including any paid experiences like babysitting, snow removal, mowing lawns etc.)
Where you went to school
Any volunteer work you have done
Internships, co-op education and unpaid work experiences
Tips:
You may not have all the items listed above – many people do not and that is okay.
Over time you will gain experience and your resume will become a stronger tool for finding employment.
Write the best resume you can with the experience you have today.
Be honest when writing your resume; even if you are new to the work world and have limited or no experience.
Keep it current. Take items off your resume if they are no longer relevant. For example, remove your high school information after you have completed college.
As a general rule, only include the last ten years of work history on your resume.
A resume is a living document that you must update and change often. When you take a course, change jobs or earn a certificate, add this new information to your resume.
You can adjust your resume to highlight different skills depending on which job you are applying for.
Over time a resume can look out of date. It is important to refresh your resume by updating the wording, changing the format or updating the font.
Don't forget to have someone review your resume before you send it to employers.
---
This guide is meant to give you a basic outline so that you can start making the best resume you can. Everyone has their own experience and personal history so each resume will be unique.
Where do I start?
Before you start writing, gather up all the information you will need for your resume:
Employment records – where you worked including dates
Education – where and when did you go to school?
Experience – babysitting, snow removal, flyer delivery and many others
Volunteer records – where and when did you volunteer?
Certificates – from any courses or training (including work readiness programs, life skills training etc.)
Awards – from school or a volunteer job
Once you have gathered all your information you can start typing up your resume. Organize your resume into sections with headings so it is easy to read and understand.
Your resume should have five main sections:
1. Name and contact information:
Start with your name and contact information at the top of the page. Include your full name, address, contact phone number and email address so they can contact you.
2. Summary:
The summary explains your key skills and strengths. This is your chance to highlight accomplishments and skills that are directly relevant to the job you are applying for.
Review the job description in detail and make a note of the keywords and primary skills related to the job you want. Use the summary section of your resume to demonstrate that you have the skills and experience needed.
Where possible use specific information:
Did you receive special recognition for excellent customer service skills?
Were you promoted within your company?
Did you go above and beyond your school, volunteer or work requirements?
Were you given any awards or recognized for something you did well?
Rather than simply adding "teamwork" as a skill, tell the employer how you know you are a good team player:
"Teamwork skills honed through eight years of playing soccer."
Avoid writing that you are "organized" when you could write:
"Developed a new system for tracking donations for the annual Inglewood Community Association food drive"
Anyone can add buzzwords to their resume. Make sure that your resume contains personal examples that show an employer what you can do.
There are many unique ways to write a summary on your resume, here is an example:
Reliable student with a passion and natural ability to care for children.
Extensive experience working with youth from ages 2-12 years old. Praised and awarded for organizational skills and ability to develop safe, fun and engaging environments for children.
Key skills include:
Creating safe play environments
Interacting with children and parents
First Aid, CPR and Stay@Home Safe certification
Team player, works well with others
3. Work Experience & 4. Volunteer Experience:
After your summary section, you can list your work experiences.
When you have limited experience, you can combine the work and volunteer experience sections. If you do combine them, make sure to indicate which jobs were volunteer positions.
Writing a Resume with No Experience
Video: How to Write a Resume with Little or No Work Experience
Make sure to list the position title followed by the company name, the location/city and the dates you worked there.
Under each work or volunteer experience, write two or three short descriptions of what you were responsible for in that position. This could include what you did, things you improved, or any achievements while in that role.
Examples of listing work and volunteer experience:
Marketing Intern, Vancouver Public Library                                                                                     October 2019 – December /2019
Responsible for distributing marketing material to the various libraries
Support marketing campaign planning and execution
Assisted in the creation of written, video and image content
Line Cook, Boston Pizza, Hamilton, ON                                                                                                                    April 2017 – present
Setting up and stocking kitchen stations
Plating cooked foods
Complying with mandatory food safety standards and regulations
Volunteer Dog Walker, Humane Society of Calgary                                                                                January 2010 – March 2015
Walking dogs for half hour increments
Pick up and dispose of dog droppings during walks
Check food and water supply to make sure basic needs are met after walks.
Tips:
List your experience starting with the most recent and work backwards – this is called reverse chronological order
Dates are important to employers – do not leave them out
Did you take a break between jobs? You can address any gaps in your work history in your cover letter
5. Education:
In most cases, education is listed last on a resume. You may choose to list your educational experience first (right under the summary section) if you have a lot of education and you are applying for a job that requires a degree or specialized training. You can also add information about certifications, professional development and practicum experience in this section.
Here is an example:
Transitional Vocational Program Certificate, Mount Royal University, Calgary, Alberta                                                   2015
Dean's Honor Roll 2014, 2015
Courses included: life skills, introductory computer coding, personal safety and standard first aid
General High School Diploma, Inuksuk High School, Iqaluit, Nunavut                                                                               2017
Volunteer of the Year 2017
Electives: Printmaking, Student Council, Basic Computer Programming and Design
What NOT to include in your resume:
Photos – photos on resumes are not common, so play it safe and do not include photos.
Graphics – it is best to create a resume that looks clean and classic. No graphics, funky lines, text boxes or large amounts of color.
References – provide your references when an employer asks for them. Do not include your references on your resume.
Objective statement – these used to be standard on any resume but are no longer considered helpful. An employer wants to know what you can do for them – not what you hope to gain from employment.
Formatting & Editing:
Get ideas by looking at resume templates and examples online.
Templates you find online can be difficult to edit. You may want to start with a simple Word or Pages document on your computer.
Use a font size that is clear and easy to read – typically 11 point or 12 point.
Use professional style fonts that are easy to read. Avoid Comic Sans, Papyrus or other novelty fonts.
To help make some headings stand out, use bold type, italics and occasionally a small amount of color, like a navy font. Avoid underlining words – as it looks outdated.
Use consistent formatting throughout your entire resume. Keep the spacing between paragraphs and headings the same. If you use one font for headings, make sure they all match.
Employers do not have a lot of time to read resumes. Keep your resume concise, one or two pages maximum.
If your resume is over one page, add page numbers.
Get someone to look over your resume with you. Double and triple check for spelling mistakes or errors.
Save a copy of your finalized resume in a PDF. (This is the version you would send electronically). Also by saving your resume, you could always go back and make changes instead of starting from scratch.
Submitting your resume with a cover letter is a very good idea. A cover letter is the perfect place to show an employer that you have done your research and that you would be a great fit for their company. A cover letter is also a great place to talk about the experience you have that did not fit into your resume – or to explain gaps in your work history.
What to include in a cover letter:
An opening statement – tell the employer why you are writing to them
What you can offer the employer – don't repeat the same information from your resume, instead introduce new information about your skills and experience
Why you would be a good fit for the company – show them that you have done your research
Closing statement – summarize and suggest next steps
Tips:
Write a custom cover letter for each application
Make sure you address your cover letter to a specific person
Use a business letter format – you can find many examples online
Match your cover letter formatting to your resume – font, font size, margins etc.
Be professional and polite
Focus on what you can do for the employer – not what they can do for you
Finish with a short thank you paragraph
Don't forget to edit your cover letter!
Cover Letter Resources:
References are former employers, volunteer supervisors, teachers or people in your life who would be willing to tell a possible employer about your skills, experience and character.
Types of References
Your whole Career Portfolio (resume, cover letter and references) should be formatted the same way. This will make you look professional and polished, and show employers that you are thinking about the details.
There are two types of references:
A) Employment references are former managers or supervisors – someone you directly reported to on the job.
B) Personal or character references is someone in your personal life who can speak about your character (the qualities that make you who you are). A personal reference could be a coach, neighbour, teacher or mentor. Unfortunately, it is not acceptable to use family members as references since they are considered to be biased.

Ask any possible references if they agree to being contacted by employers. Have a conversation with your references to find out what they will say about your personality, work habits and abilities.
If you think that a reference might share some negative things about you, it is best to leave them off your reference list. Ideally, you want positive references that will tell an employer how fantastic you are.
When you leave a job, volunteer placement or life skills training classes, ask your supervisor, manager or instructor if they will be a reference for you. Make sure to keep track of your references' first and last name, job title, phone number and email address.
Reference letters are helpful, but generally an employer will want to contact your references and ask them questions. An employer will ask questions to confirm the items on your resume and to get some details about your performance on the job.
Do not include a list of references with your resume. Only provide your references when an employer asks for them – usually after an interview.
Make a reference list that matches the style of your resume and cover letter. Use the same font sizes and styles.
Should you mention your disability or that you have Down syndrome?
It is completely up to you! You can tell the employer about your disability in your cover letter, on your resume, before or during an interview or not tell them at all, it is entirely your choice.