Preparing for the Special Olympics
Paul's thoughts heading into the Special Olympics Winter Games in February 2023.
How are you feeling about the Special Olympics coming up?
I am very happy about going to the Winter Games this year because it is a very big deal to be going with my team. It will be the experience of a lifetime! We are going to have so much fun and I am very excited.
Are you nervous at all?
I am so not nervous about the Winter Games or the very long bus ride to get there.
What sorts of things do you need to do in order to prepare for the Special Olympics?
The first thing that I must do is pack for the Winter Games because we will need to travel and be at the games for the weekend. The second thing to do is keep on practicing our Sunday afternoon curling every week leading up to the games.
Where will you be traveling to for the Special Olympics and how will you get there?
We will be traveling to Edmonton for our Special Olympics on a long bus ride to get to Sherwood Park. That is where the curling is going to be.
What kinds of things do you need to pack for the trip?
We have to pack our good pants and shirt for the Special Olympics Dance and black dancing shoes. We also have to pack our curling shoes, our curling gloves, our jackets, our PJs, and other things like my bookbag because the trip is going to be very long. We will have fun as soon as we get there!
How many days is it?
We leave on February 24th and we will be back on February 26th. We will be very tired when we return back home!
Are you and your team practicing a lot?
My Special Olympics team really has been practicing for a very long time and even practicing for the Calgary Alberta Winter Games next year. If we do very well then maybe we can go to the Official National Winter Games!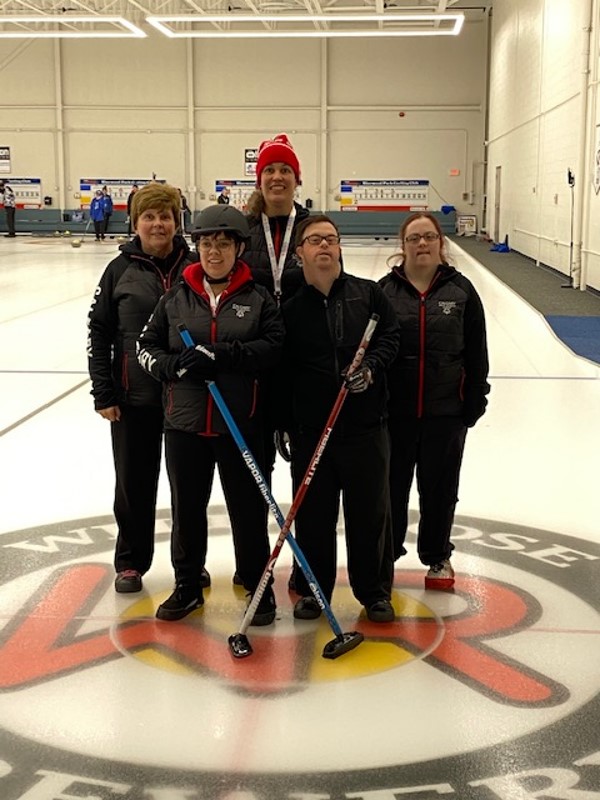 Paul Sawka and his Special Olympics curling team on the ice!
After the Special Olympics
Paul tells us all about his experience playing in the Winter Games.
Have you played in any Special Olympic Winter games before this?
No, this year was the first time I ever got to play in the Special Olympic Winter Games.
When did you start curling with your Special Olympics group?
I have been curling with the curling program and with the Special Olympics group for 24 years
What was your favourite part of playing in the Special Olympics?
My favourite part was being with the team and having the team work for the Winter Games. We also had a very good dance party right at the Winter Games and that was another great part of being there!
Was it challenging?
Curling was very fast and very hard, and we did it very well.
Did you feel nervous?
I was not nervous because I curled very well – I was a skip (a captain) for my team and we played very well.
Was it exciting and fun?
Special Olympic Winter Games are very fun and exciting and it was a lot of fun of being there!
Tell me all about how you felt.
We all felt so very happy about getting a gold medal with everyone who went to the Special Olympic Winter Games.
What other events happened after the curling matches?
We had a couple of good curling breaks in between so that we could be ready for our next game.
Did you spend time together with your team outside of the matches?
We did not have any time together outside of the curling matches because we had to keep going all the way through.
What other Special Olympics sports do you play?
I play Special Olympics baseball for the Summer Games.
Will you be playing in any other Special Olympics tournaments in the future?
I might be playing in baseball tournaments for Special Olympics in the future.
I also want to say that I will be going to a press conference because Calgary is hosting the 2024 Winter Games and that is next year and on behalf of the Special Olympics I am showcasing the Special Olympics curling!
Tell me more about the Winter Games happening in Calgary next year.
I am very happy to tell you about the Winter Games happening here in our City of Calgary. Calgary is hosting the Winter Games for next year, 2024.
Are you going to be involved in the Winter Games happening here next year and if so, in what way will you be involved?
I will be involved in the Winter Games next year as a volunteer there. I will be helping my own parents and many other volunteers on the Volunteer Committee.