Hey everyone, my name is Paul Sawka. I am the Awareness Leader for CDSS. I have been thinking and writing a lot about feelings and changes lately. I really wanted to share these thoughts with the world, so I would like to invite you to read my new blog series about my own emotions and changes as I get older.
Changes: Exploring Emotions and Aging
Part 3: Selling the Family Home
Part 4: Life Post-Pandemic (Coming Soon)
Part 5: Friendships and Loneliness (Coming Soon)
Selling the Family Home
I feel very sad about my parents moving.
It is hard to leave our good old memories behind and to say goodbye to the old house that I grew up in. I did feel sad when I learned that my parents wanted to move to a new home because I have so many good memories that mean so much to me. I therefore truly will miss the old house where our family shared such wonderful times together.
My very first memories in our old house is about me growing up with my little sister, like playing in our treehouse. I sure will miss the old neighborhood because I used to walk around and find someone to come out and play with me like Derek. We used to get together and play at the old house.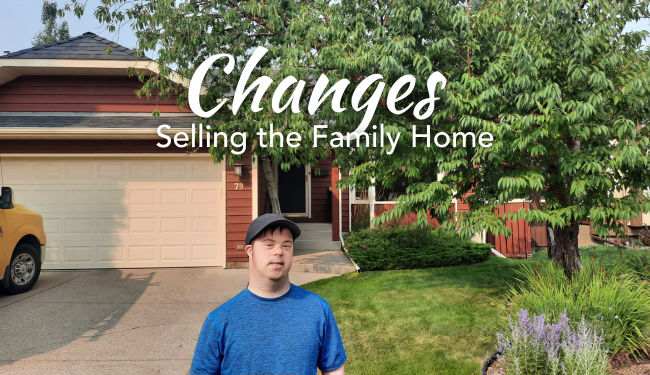 Saying Goodbye to Childhood

For me, leaving the old house feels like saying goodbye to my childhood and childhood ways. We all must grow up and leave certain things behind sometimes.   

Our childhood is a very big part of us and it is okay to say goodbye to it but it is also so very hard for me to do it sometimes. For me, I am very sure that saying my goodbye is the very best way to depart from our old house. Even though it will be very hard for me, I think it helps me to accept all the good changes for me and my family.
A Circle of Support

Even though my parents are moving now, I know I will still see them very often. Right now I am helping them with the packing and unpacking of boxes.

I will continue to have the same support from them because their new house is still close by, only about 20-25 minutes away. They always make sure I get to the places I need to and are always there to help with anything I need.

I am very happy for my parents. It was their choice to sell the house and to move into a new home and even though I am very sure that things will not be the same I know everything will be okay.

It reminds me of when I first moved out of my parents house.
Moving Out

That was a very big change for me and for my family when I first moved into my own condo. I also had a lot of packing and planning and moving to do that summer.

It took some time for everyone to get used to it once I moved but my parents were still always there to help me over the years. Our relationships were still very close and even though it was a big change, I think it was a very positive change for everyone in the end.


It was always one of my long term goals to move out on my own. It was something I worked towards by building life skills and finding the right jobs for me. My parents supported me to learn those life skills so that I could move out on my own eventually.
Planning for Independence

When I first moved out from my parents house I had to find the right roommate and I had to find the right place to live. We had to budget and make a financial plan.

When looking for a new roommate we usually put an ad out and also found people through word of mouth. My parents and I had to interview my potential roommates to learn about their background information and their interest in becoming my roommate to see if they would be a good fit.

My first was a very nice young girl and we have had a lot of very good memories of being roommates. Eventually roommates have to move on with their lives and I have to find a new roommate. It can be very hard to find a new roommate but we always manage to find the right one.

I was so very happy to be moved out and to be using my skills for independent living. The first thing I had to do when I moved in was organize all my things and set up my room.

I was very excited when I finally moved out and I was not nervous or scared at all because I was so very happy to finally be moved out and ready for my own life.
Words of Advice

My advice for anyone who wants to move out on their own someday is to follow the same steps as me. You will need to prepare before you move out and learn skills to take care of yourself like cooking and cleaning. You have to find a roommate and a job and you have to find a good place to call home just like I did and I'm sure the people closest to you in your life can support you to move towards that goal of having more independence.
Recommended Resources for Living Independently
Healthy Aging for People with Down Syndrome 
Navigate the next stage of life with useful information, resources and community stories. This resource helps people with Down syndrome and the people who care for them learn about the aging process and how to prepare for the future. Download the booklet from our Healthy Aging Resources Page.